Holiday Recipe for Crab Stuffed Mushrooms
Sign Up to Review Your Medicare Now
https://quotes.medigaplife.com/find-plans/
Enjoy this holiday recipe for delicious crab stuffed mushrooms.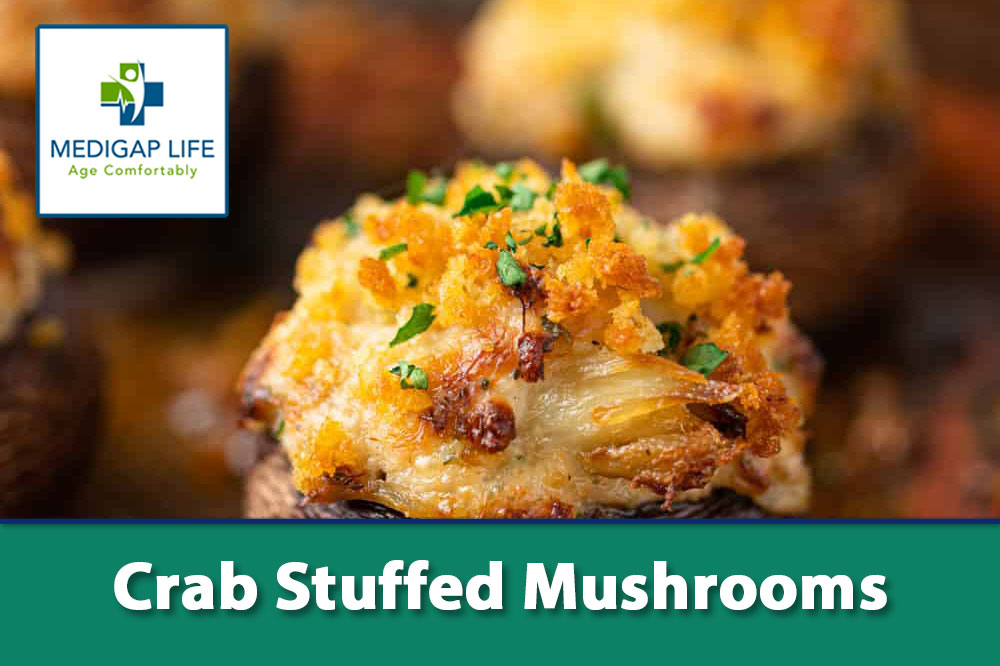 Ingredients
1tbsp olive oil
45Button mushrooms
1package cream cheese
1/2cup grated Swiss cheese
1/4cup grated parmesan cheese
2tsp lemon juice
1/2tsp salt
1/2tsp pepper
1/2cup finely chopped crabmeat I use the imitation crab meat in packages typically found at most fish counters
1/2cup cooked shrimp finely chopped
4green onions minced
Instructions
Preheat the oven to 400 F.
Wash mushrooms, and remove stems. Heat olive oil in a frying pan on med-high heat. Add mushroom caps, sprinkle with salt, and sauté for 2 minutes each side until softened.
Soften cream cheese in the microwave in a large bowl for about 15 seconds. Add cheeses, lemon juice, salt and pepper, crabmeat, shrimp and green onions, mixing well.
Line a baking sheet with parchment paper. Add mushroom caps, and then spoon filling into mushroom caps, or pipe using a Ziploc bag with the corner cut off.
Cook mushrooms in oven on the lowest oven rack for 15 minutes, then switch oven setting on to broil. Switch oven rack to the top setting and broil tops of the mushrooms for about 2-3 minutes until tops are lightly browned.
Serve right away, or refrigerate for up to 24 hours and then reheat in 350 F oven for 15-20 minutes. Filling can also be frozen up to 3 months to refill fresh mushrooms with!
Call Us about Medicare Advantage plans at 1-855-800-5265 or Sign Up to review your Medicare coverage and options https://quotes.medigaplife.com/find-plans-4/. We can help. #medigaplife #medicare #medicareadvantage #disability #partd #vision #dental #hearing #aep #transportation #diabetic